Myamoto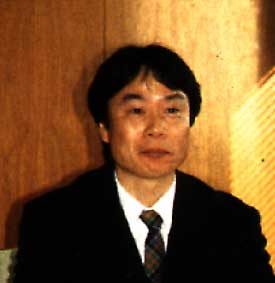 Shigeru Miyamoto (or Myamoto) is one of the most important people in Nintendo and the creator of lots of very known games like Mario, Donkey Kong, and... Zelda !
Miyamoto says games must be easy to play : all the control and the movements must be evident for the player. That's why his games don't have thousands of options : Mario and Donkey Kong just need to jump...
Myamoto says Sonic is "A good copycat of Mario"
Life :
1952 : Born in Sonobe
1977 : Begins to work in Nintendo
1979 : In charge of Arcades Nintendo Games Design
today : Responsable of leisure's Development, projet chief, designer and director of video games
Good points for him :
| | | |
| --- | --- | --- |
| Super Mario Bros | NES | 40M games sold |
| Super Mario World | SNIN | 7M games sold |
| Super Mario Kart | SNIN | 6,5M games sold |
| Donkey Kong Country | SNIN | 7,1M games sold |